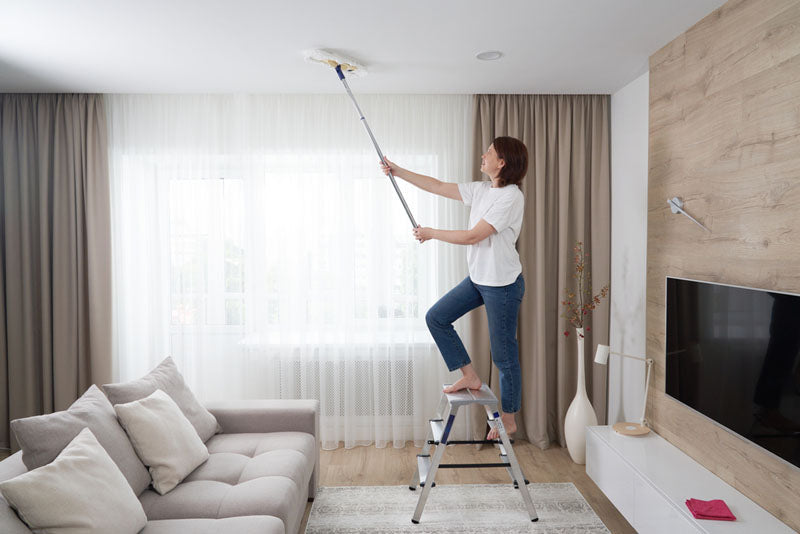 Dirt, grime, and the passage of time can make ceilings look less than their best. Especially in areas prone to moisture or smoke, ceilings can develop spots, stains, and film that dull their appearance. The right ceiling cleaning solutions can make all the difference. Here, we explore the top 5 ceiling cleaning solutions to help you keep your ceilings looking pristine.
Effective Ceiling Cleaning Solutions 
When it comes to combating dirt, grime, and other buildup on your ceilings, not all cleaning solutions are made equal. Choosing the right solution is essential based on the type of stain and the ceiling's material.
Water and Dish Soap Solution
A classic and straightforward solution. Mix a few drops of dish soap with water in a spray bottle. It's gentle yet effective for removing general dirt, germs, pollutants, and light stains. Spray the solution onto a microfiber cloth and wipe the ceiling.
Baking Soda and Vinegar
Perfect for tackling tougher stains like grease or soap scum residue. Make a paste using baking soda and a little water. Apply it to the stain, let it sit for a few minutes, then spray with vinegar. Wipe away with a microfiber cloth.
Commercial Ceiling Cleaner
If you're facing particularly stubborn stains or want to ensure you remove mold, mildew, and bacteria, and viruses, commercial ceiling cleaners may be your best bet. Always follow the manufacturer's instructions and test a small area first.
Vacuum with a Brush Attachment
The vacuum with a brush attachment works wonders for textured or popcorn ceilings. It gently removes dust, cobwebs, and loose dirt without damaging the ceiling.
Vinegar and Water Spray
A natural solution for many surfaces in your home. Mix equal parts of vinegar and water in a spray bottle. This mixture is excellent for breaking down grime and removing residues.
Tips for Safe and Effective Ceiling Cleaning
Ceiling cleaning can be slightly more challenging than other areas of the house due to its height and the potential for debris to fall. It's crucial to take precautions to ensure the safety and effectiveness of your cleaning process.
Safety First
Always use a stable ladder or step stool to reach high spots. Ensure the floor beneath is free from clutter, and if possible, lay down a tarp to catch any drips or falling debris.
Test a Small Section First
Especially when using a new cleaning solution, always test a small, inconspicuous area first to ensure it doesn't damage the paint or wallpaper.
Work in Sections
Divide the ceiling into manageable sections. Clean one section at a time to ensure that you don't miss any spots and that cleaning products don't dry on the surface.
Regular Maintenance
Regularly dusting your ceiling with a duster or vacuum prevents buildup, reducing the frequency of deep cleaning.
Ceiling cleaning is a crucial aspect of house maintenance. It not only enhances the appearance of the room but also promotes a healthier living environment by getting rid of allergens and contaminants. With the right ceiling cleaning solutions and tips, you'll be well-equipped to maintain spotless ceilings in your home.
Frequently Asked Questions
Are there any eco-friendly commercial ceiling cleaners? 
Yes, many brands offer eco-friendly options. Check product labels for certifications and eco-friendly claims. 
How can I remove cigarette smoke stains from the ceiling? 
A mix of vinegar and water can help, but persistent stains might require a commercial cleaner designed for nicotine removal. 
What's the best method for high vaulted ceilings? 
Extendable dusters or vacuums with long attachments are great for reaching high vaulted ceilings without using excessively tall ladders.