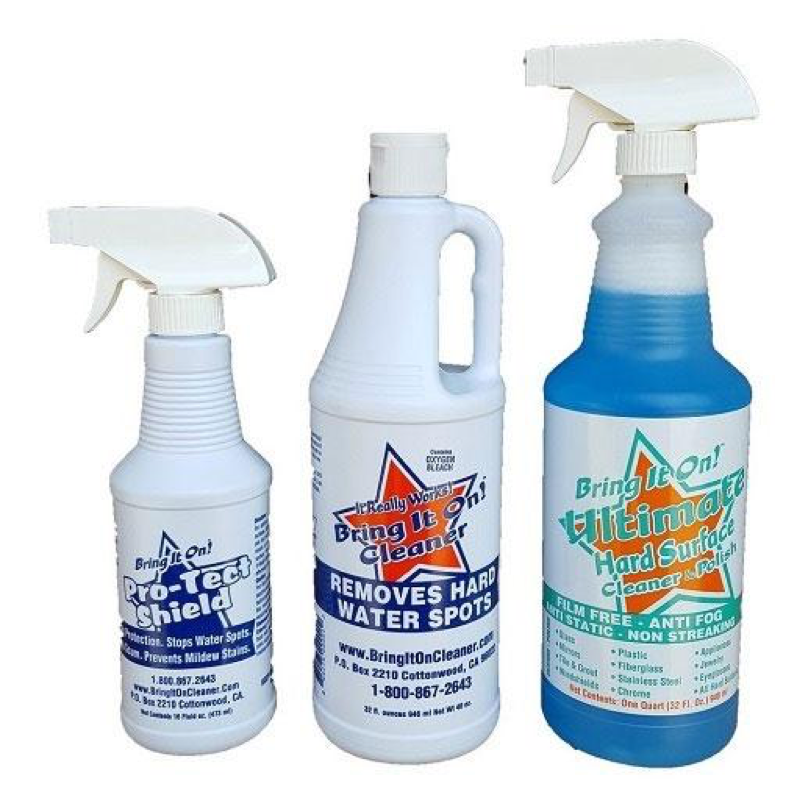 Hard water spots are among the toughest stains to remove at home, particularly in the bathrooms. These are the grayish, scale-like substances that cling onto shower fixtures, glass doors, windows, tiles, grouts, and bathtubs.
The busy bee in us keeps us from doing a regular bathroom cleanup, and yet we also want to keep our windows or bathrooms fresh and free from any grime and dirt build-up.
This is where Pro-Tect Shield works best.
An amazing cleaner molecular formula
Pro-Tect Shield is formulated to block off water stains on shower doors, tile, grouts, and windows after we have cleaned these surfaces. It's a recommended follow-up solution to the Bring-It-On Cleaner, a patented formula for clearing tough water stains.
Pro-Tect Shield's amazing molecular formula fills hollows and leaves a strong, lasting high gloss shield. Water carrying hard minerals and soils are repelled off the surface, and thus, the accumulation of dissolved minerals is prevented. It's a big relief against the persistent reappearance of the water spots on our household and bathroom surfaces.
Innovative Solutions for cleaning
While hard water stains have plagued homeowners for years, innovative solutions like Pro-Tect Shield revolutionize how we approach home maintenance. We no longer need to toil away with ineffective cleaners and short-lived results. 
By understanding the root cause of these stubborn water spots – mineral accumulation – Pro-Tect Shield offers a preventive solution rather than a mere cover-up. With this shield, your bathroom and household surfaces don't just appear clean; they resist future stains, making it a sustainable choice for homeowners who prioritize both cleanliness and convenience.
Clean First with Bring-It-On Cleaner
 Before using Pro-Tect Shield, ensure all vulnerable surfaces are free of water stains and soap scum. Here are 5 easy steps:
Apply the solution on the surfaces and leave it on for 5-10 minutes.

Scrub away the dirt using a non-abrasive sponge or cloth.

Rinse off the soapy solution with water. To easily loosen dirt and stains, use warm water.

Dry off the surface using a squeegee or a microfiber cloth.

For the much-needed treatment, spray Pro-Tect Shield over newly-cleaned glass doors, windows, shower fixtures, tiles, grouts, and bathtubs, then wipe with a clean, dry cloth.
Applying Pro-Tect Shield delays the need for a follow-up cleanup, saving you time, money, and energy. They make the next cleaning much easier and more efficient as no dirt or stains are sustained.
Frequently Asked Questions
What are the main ingredients in Pro-Tect Shield?
Pro-Tect Shield uses a proprietary molecular formula designed to repel water and prevent mineral accumulation. 
Is Pro-Tect Shield safe for all surfaces? 
Yes, it's formulated to be safe on glass, tiles, grouts, and most bathroom surfaces. Always do a patch test first. 
How often should I apply Pro-Tect Shield? 
For optimal results, use after every thorough cleaning or as needed to maintain a stain-resistant shield.