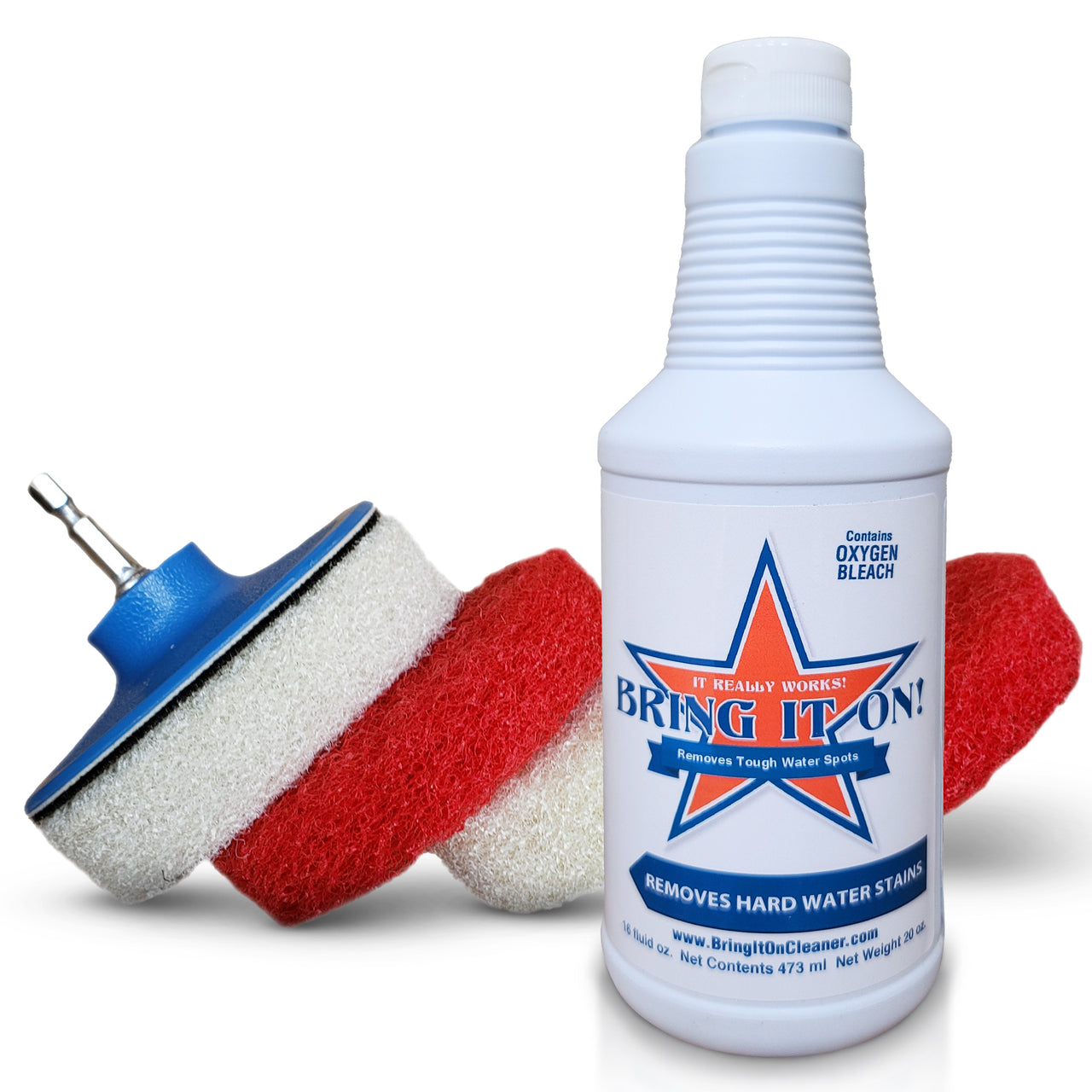 Try Our Bring It On Cleaner Plus our amazing Drill Scrub Pads. This Kit will make your cleaning life much easier in the long run. You get 32oz of the Bring It On Cleaner, and our new amazing drill pads. These reusable pads will cut through mold, mildew and even hard water stains. Use them to clean tile and grout, clean sinks, bathtubs, showers, use them to clean your windows and outdoor furniture, just about everywhere you can think of. Did I mention that they are reusable.
The Bring It On Cleaner can be used on many different hard surfaces, use as a fiberglass tub cleaner shower door cleaner, calcium lime remover, pot and pan cleaner. The uses are endless for the Cleaning Product.
For a faster and more effective clean, use the Bring It On Drill Brushes and Pads
Just about anywhere you would use a hand scrub pad, you can use these amazing Bring It On Drill Pads. Get creative and get cleaning. Check out this Video
For instruction and demonstrations visit our product videos page.
Drill Pad Window Cleaning
Drill Scrub Pads, Drill Pads
Start by applying the Bring It On Cleaner to the surface to be cleaned. Next, Attach the Drill Scrub Pads to any household drill and smear the product around using the drill pad before starting the drill,( this will avoid flipping the product all around). Next, use the drill pads to clean all your vertical and horizontal flat surfaces, tile cleaning, glass cleaning, you name it. Once you feel the area is to your satisfaction, use water to wash off the Bring It On Cleaner. Try some of our other drill brushes for cleaning brick and stone, patio furniture, sinks and tubs.
These Drill Pads will help save time and money in the long run. Add these Drill Pads and Brushes to your bathroom cleaning supplies.
Visit our sister website for all you wood care needs, Touch Of Oranges.com