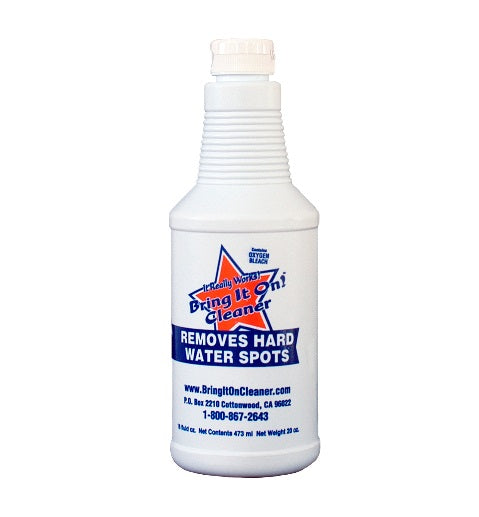 Check Out Ace Hardware's new water spot remover.
Finally a trusted name like Ace Hardware has found a water stain remover that actually works.
Bring It On Cleaner hard water spot remover is a new product to the Ace Family. After searching for a water spot remover that actually performs as intended, Ace Hardware has chosen to carry the Bring It On Cleaner with Oxygen Bleach.
Water Spot Remover
"Bring It On" Cleaner has a formula like no other, we have added the power of Oxygen Bleach. Hydrogen Peroxide, disinfects, deodorizes, helps remove mold and mildew, also removes years of unwanted stains. It Removes minerals on fiberglass, shower doors, shower pans, tile and grout, soap scum. The best part is that it is gentle enough for cleaning windows, windshields and even granite counter tops! Bring It On quickly and easily removes hard water and mineral stains from glass, tile and hard surfaces.
Shower Handle
The Bring It On Cleaner is easy to use and highly effective:
Start by squirting the water spot remover all over the area to be cleaned.

Take a kitchen scratch pad and scrub the entire area to be cleaned.

Let the Bring It On Cleaner sit on the surface after the area is scrubbed, so the oxygen bleach can do its job.

Take a wet wash cloth and wipe the area clean.
Say goodbye to stubborn water stains and mineral marks with Ace Hardware's innovative "Bring It On" Cleaner. It's not just about cleanliness; it's about efficiency and effectiveness. The unique combination of ingredients, with the added strength of Oxygen Bleach, ensures every nook and cranny of your house gleams with pristine clarity. No longer will you need to stockpile multiple cleaning products for various surfaces. "Bring It On" Cleaner handles it all, providing a one-stop solution for homeowners aiming for a spotless environment. Don't just clean it, Ace it!" 
If you are tired of scrubbing take a look at these amazing new Bring It On Cleaner Drill Pads and Brushes that are changing the way people clean. Remember the Bring It On Cleaner is a multi purpose stain and mineral remover. Make sure to try this product indoors and outdoors. Use it on rust, mineral buildup, soap scum, oxidation, stains, and much more.
Also, here is a video of the Bring It On Drill Brushes in action
Ask your local Ace Hardware!
Frequently Asked Questions
Can it remove old, set-in stains? 
The product is designed to tackle fresh and old stains and effectively rejuvenate surfaces. 
Do I need to wear gloves while using it? 
For sensitive skin, wearing gloves is recommended. Always follow the safety guidelines on the label. 
Are there refill packs available? 
Many Ace Hardware products offer refills. Check in-store or online for availability.