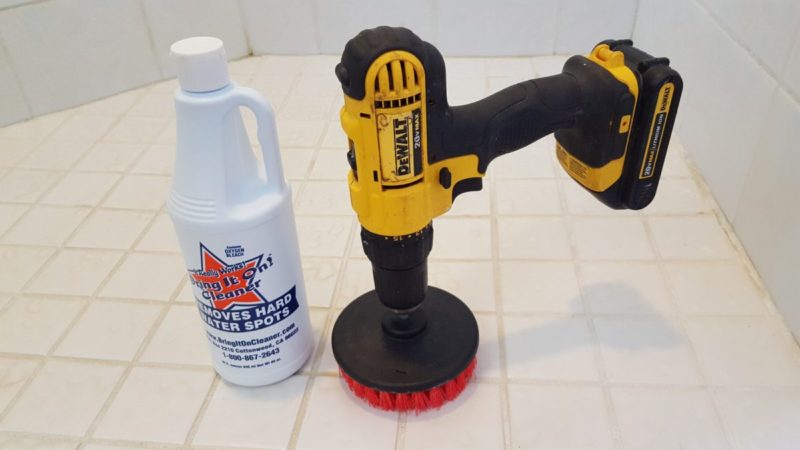 Corner and Edge Brush
Finally a method to clean grout that is fast and efficient. Having two showers that are completely encased in tile has created a headache for me over the years. I stumbled upon a product that actually works, combine with a method of cleaning that takes all the scrubbing out of the equation. This is how you clean grout and tile.
Its called the Bring It On Drill Brush and Pads. These brushes are used with any house hold drill and some of the Bring In On Cleaner product.
Clean Grout:
It is as easy a squirting the product on the tile, attaching the drill brushes to your drill and letting the drill do the hard scrubbing for you. The Drill Pads are great because they move in a circular motion over the tile and grout lines and you can push down as  hard as you need to. It would be the same as taking a kitchen scratch pad over the tile and grout surface and doing about 500 hard rotations in 30 seconds.
If your grout lines are stained and discolored, this is the product you need to try.
One great aspect of the Bring It On Cleaner is that is contains an oxygen bleach that will help pull stains out of your grout while also disinfecting the area.
Also there is a Corner brush that allows you to clean in all those hard to reach places, (around faucets, all your edges and corners). If you still clean all that mildew and soap scum by hand make sure you take a look at this video and see how much easier cleaning can be.
I was amazed how all the scrubbing could be taken out of the equation when cleaning grout.
Check out this video
One of the great aspects of these brushes and pads, is that they are reusable, so you can take them from your tile to your kitchen sink, then to your glass stove top. if you are a creative cleaning person then you can continue to find new uses for these brushes