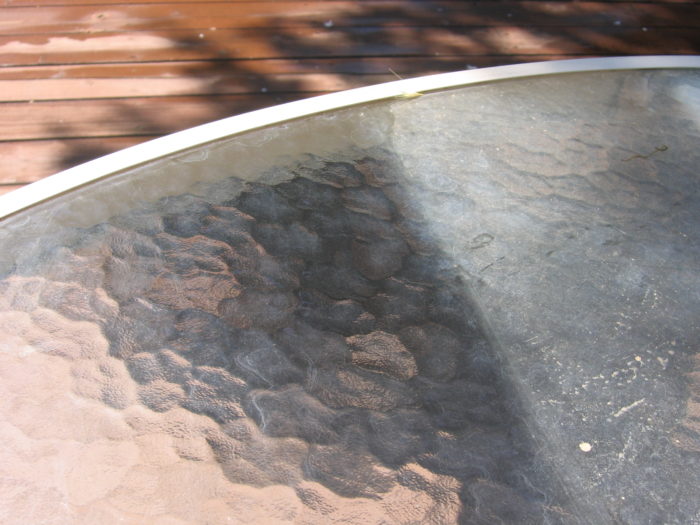 Outdoor furniture are always in its pristine state - in magazine photos. In real life, it's a totally different story.
The wooden benches, wicker chairs, and tables that we set up in our gardens may have come from inspirations of sun baths, outdoor reading, or sunset dinners. But over time, our precious furniture loses luster as they become subject to elements beyond our control - the sun and the weather.
Unless they are made from high-quality materials that are both weather- and UV- resistant, furniture easily fades and ceases to be picture-perfect.
Outdoor furniture problems
The following are the problem with outdoor furniture.
Sun damage

Rain or moisture damage
Sun damage
Hardwood furniture's continuous exposure to intense sunlight can dry up the finish and speed up the aging process of the wood. As a result, the wood turns brittle and its color fades. Certain shades or parasols may help block off or disperse the sunlight, but in many cases, they are not enough.
Rain or moisture damage
Meanwhile, exposure to rain and excessive moisture can cause wooden outdoor furniture to warp, crack, or rot.
Sprinklers can also leave water stains more clearly on glass tops of garden tables. Water stains are mineral deposits which the water picks up as it passes through rocks on the way to our water supply. When the water evaporates, these mineral deposits remain. They also commonly accumulate on glass shower doors, shower heads, and ceramic tiles.
How to treat weather-damaged furniture
Good thing restoring furniture has become easier. Now there are easy ways available to treat damages on outdoor furniture. We just need to find the fastest and most effective of them all.
Clean the wood
Touch of Oranges Wood Cleaner is an excellent product that can revitalize aged, sun-damaged, or weather-beaten furniture such as wooden tables, benches, lounge sets, or wooden floors. What's great is that it leaves a fresh and wonderful orange scent instead of the harsh smell of synthetic chemicals that we have been accustomed to but hate.

Use this at the first sign of wear on outdoor furniture, after a season of strong rain or after a harsh summer season.
Protect the wood
Once the wood is clear of dust and dirt, it's time to protect the wood with Howard Sun Shield Outdoor Furniture Wax. This product is specially developed to retain and restore the wood's lovely appearance and protect it from the harsh effects of UV rays, which are the prime cause of cracking, drying, oxidizing, and graying.
Sun Shield effectively protects and enhances all types of wood including:
Teak
Cypress
Cedar
Redwood
Wicker
Pine
Oak
Rattan
Remove water stains
Important ways to treat weather-damaged furniture
Remove water stains.

Finally, the best way to eliminate

hard water stains

, especially on glass-top tables or other surfaces, is by using Bring It On Cleaner. This product effectively removes all the mineral buildup or oxidation from the furniture's hard surfaces.

Simply pour a small amount of the solution on a non-abrasive scratch pad or cleaning cloth and apply it on the stained surface. Rub away and leave for 5-10 minutes. Rinse with warm water and wipe off with a microfiber cloth.
Remember, lounging on outdoor sofas is a relaxing lifestyle we can enjoy in our gardens or porches for many years. Maintain their great look and extend their durability through these three easy steps: clean the wood, protect the wood, and remove water stains as necessary.
Understanding the Impact of Sun Exposure on Furniture
The Fading Issue and Sunburn on Furniture 
Continuous exposure to sunlight can make hardwood furniture lose its shine. Not unlike our skin which is prone to sunburn, furniture also suffers. The wood turns brittle, and its color fades, much like skin affected by prolonged sun exposure, which may lead to conditions like melanoma.
Sun Damage vs Skin Cancer 
It's fascinating to note that just as extended sun exposure can cause damage to our furniture, similar exposure can elevate the risk of skin cancer in humans. Just as you'd use sunscreen or sunblock lotions with an adequate SPF to protect against harmful UV rays, furniture also needs its form of protection.
The Role of Weather Conditions in Furniture Wear
Rain and Lifespan of Wooden Furniture 
Rain and excessive moisture can significantly reduce the lifespan of wooden outdoor furniture by causing it to warp, crack, or rot. For homeowners, it's essential to understand this when setting up patios or backyards.
The Downside of Heatstroke for Furniture 
Just as heatstroke is dangerous for humans, intense heat can damage furniture. The combination of sun exposure and high temperatures is especially harmful.
Extending the Life of Outdoor Furniture with Protective Measures
Shading Solutions: Umbrellas and Awnings
Using umbrellas and awnings is a great idea for those looking to protect their deck or pool furniture. These shading solutions not only protect your furniture from direct sun exposure but also add an aesthetic touch to your yard.
Cushions, Covers, and Canopies 
A furniture cover or canopy can be beneficial for wooden furniture, especially during adverse weather conditions. For homeowners looking to maintain their furniture in the backyard or patios, placing cushions and using covers can extend the furniture's lifespan. Resin-coated furniture or cushion covers are especially resilient.
Storage and Maintenance 
Consider storing furniture pieces in a garage during extreme weather conditions. Regular maintenance, including cleaning and applying protection sprays, ensures longevity.
The Benefits of Timely Furniture Maintenance
Increasing Durability with Regular Information Updates
Staying informed and updated about the latest in furniture care benefits homeowners in the long run. With proper maintenance, the lifespan of your outdoor pieces can be significantly extended.
Furniture Protection: More than Just an Aesthetic Concern 
It's not just about keeping furniture looking good. Protection from sun and weather also ensures safety, as damaged or weakened furniture can pose risks.