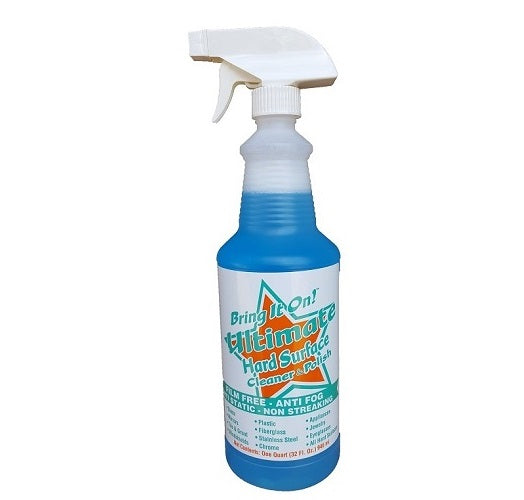 Once again I get to the grocery store and find that I need a different cleaning product for every cleaning job around the house. I look over the shelves and see hundreds of cleaning products, one for the TV, one for counter tops, one for stainless steel, one for glass and windows, when does it end! Right Now
There is a non streaking hard surface cleaner that can handle all of these tasks and it comes in one bottle. It is called the Ultimate Hard Surface Cleaner and Polish. Ultimate Hard Surface Cleaner is for glass, mirrors, windows, stainless steel appliances, granite, marble, inside windows, and is even safe on cleaning your eye glasses, sun glasses, TV, Plasma, PC screens and jewelry, and safe on all hard surfaces. It's also alcohol & ammonia free!
This cleaner leaves no residue behind, anti fogging, non streaking which makes it the perfect cleaner for counter tops and stainless steel.
Check out this video
Testimonials for the Non Streaking Ultimate Hard Surface Cleaner:
This product has changed my life! When I go to the Home Shows, I buy everything from eye glass cleaners, jewelry cleaners, granite counter top cleaners, then at the store I purchase mirror cleaner, window cleaner and more! This New Bring It ON Cleaner for Hard Surfaces does it all! Should have come out with this years ago, I would have saved a ton of money with this one product.
Sally, Sacramento, Ca.
Thanks, a product that does so many different surfaces!
I have a real problem with my granite counter tops! They always look dull and dirty, not now! What a great cleaner, no smuggles!
I love the Bring It On Cleaner for my shower doors, now I can clean the inside of my windows with the new Glass Cleaner and more. Silvia, Reno, Nv.
Frequently Asked Questions
How does the cleaner help keep stainless steel smudge-free? 
Its unique formula cleans and polishes stainless steel surfaces without leaving smudges. 
Does this cleaner have any effect on the fogging of surfaces? 
Yes, the cleaner has anti-fogging properties, which prevent surfaces from fogging up. 
How has the product affected Sally from Sacramento? 
Sally claims the product has changed her life, replacing multiple specific cleaners she previously purchased.