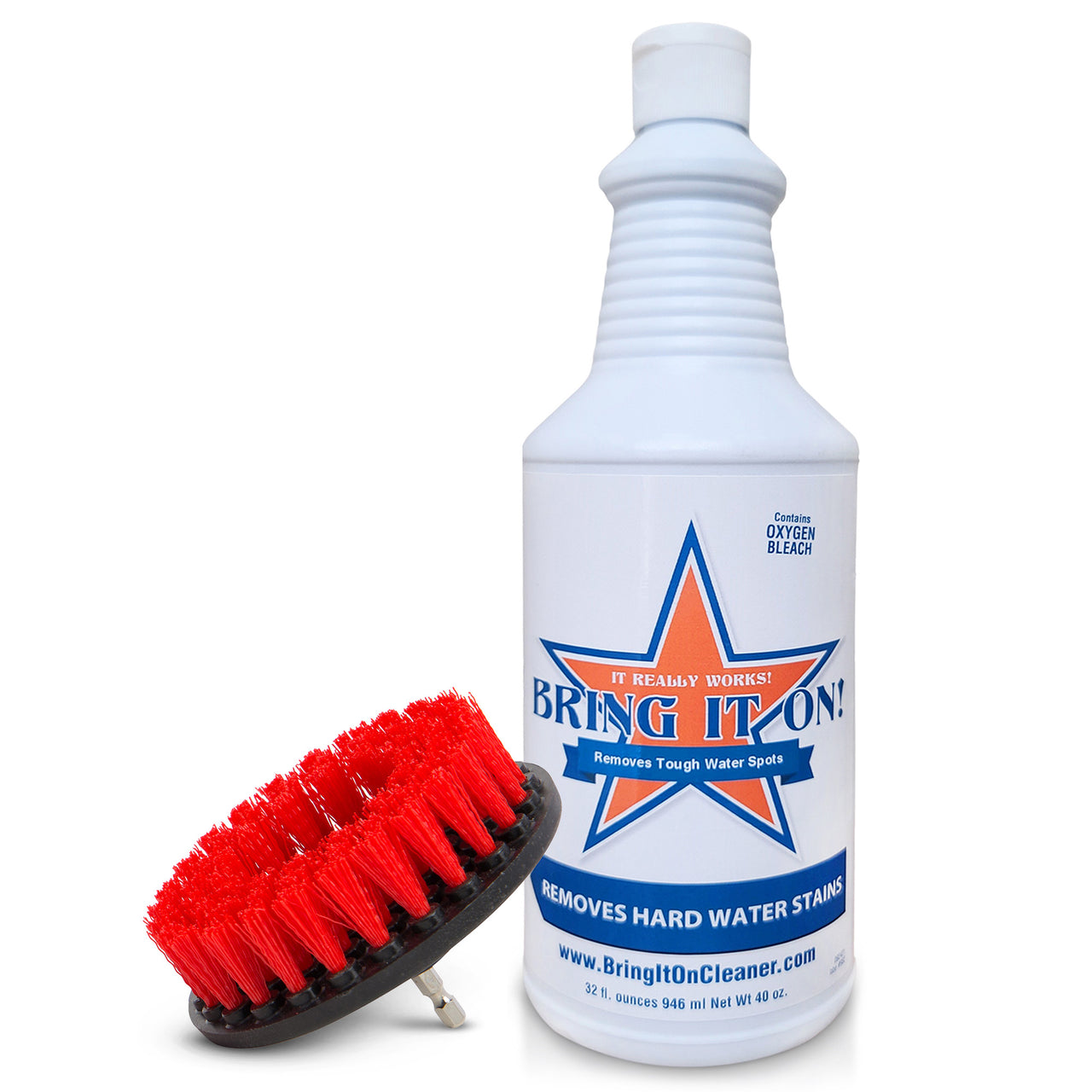 Bring It On Cleaner a great tile and grout cleaner that contains an oxygen bleach for all you stained and discolored grout lines. Try our fabulous new Bring It On Cleaning Drill Brush. Perfect for discolored and stained tile and grout, deep cleaning, outdoor and indoor use. Use this drill brush to clean outdoor furniture, clean stone and brick.  Attach the drill brush to any household drill, add product to the surface being cleaned and let the drill brush do the work for you! Not limited to tile and grout, use in your sink, tub, shower, pots and pans, glass stove top, and much more. Check out this video
Use the Bring It On Cleaner to clean fiberglass tubs, clean toilet, as a calcium lime remover. It is the best rust remover, fiberglass shower cleaner, glass stove top cleaner, fireplace glass cleaner.
This brush are made from polypropylene nylon that is guaranteed not to scratch. This is not a test product. This product has been tested by professional cleaning companies and is proven to be an effective and efficient method of cleaning.
For instruction and demonstrations visit our product videos page.
This purchase contains the Flat Drill Brush for all your flat and vertical tile and grout. Try the brush on all the areas that you would use a toothbrush or scouring pad. Behind the sink, all drains, faucets and fixtures, all your horizontal and vertical flat surfaces.
This Drill Brush is great for hard water stain, mold, mildew, soap scum, just about all the nasty build you can get in you bathroom and kitchen.
Tile and Grout Cleaner, Drill Brush Scrubber, Fiberglass Cleaner
Start by applying the Bring It On Cleaner to the surface to be cleaned. Next, Attach the Bring It On Drill Brush to any household drill and smear the product around using the drill brush before starting the drill.( this will avoid flipping the product all around). Next use the 5 inch flat brush to clean all your vertical and horizontal flat surfaces. Go over the area as many time as needed to clean the surface. Once you feel the area is to your satisfaction, use water to wash off the Bring It On Cleaner.
Visit our blog and see how some of our customers have used our products in the past.
Cleaning Drill Scrub Brush, Cleaning Brush For Drill, Drill Brush Attachment, Nylon Brush Drill Attachment, Drill Brush Tile. Glass Shower Door Cleaner, Rust Remover for Metal
Visit our Facebook Page for cleaning special and tips