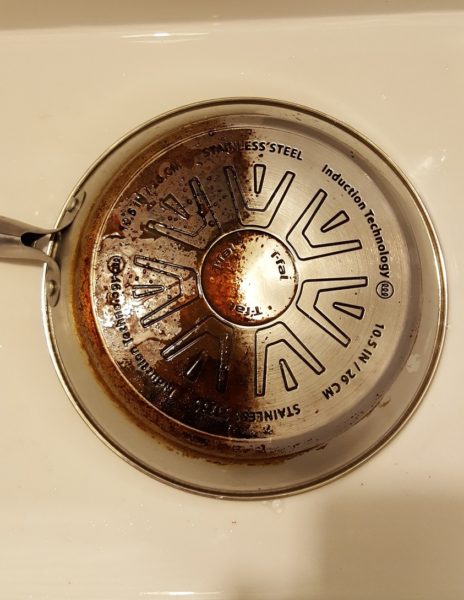 If you really want to clean a glass stove top easy and effective, I've found the best method is not with baking soda like so many quick tips advise. By using these new Bring It On Drill Brushes and some of the Bring It On Cleaner, you can not only clean a glass stove top, but you can move right into the backside of your pots and pan, then to your sink, and so much more.
It is great to finally find a product that can do so many different cleaning applications. I see on the store shelves that there is a specialty product for every cleaning job around my house. Well, the Bring It On Cleaner can do so many of these cleaning chores, that it is almost a one stop shop when it comes to kitchen and bathroom cleaning. Another great aspect of the product is that it doesn't contain any harsh chemicals. You can use this product without glove, and when your working in a closed environment, you are not overwhelmed by intense smells.
How To Clean A Glass Stove Top:
Everyone who owns a glass stove top knows that even after a couple dinners, black rings begin to form on the burners. Using the Bring It On Cleaner and the Bring It On Cleaner Drill Pads makes this process much easier. Squirt some of the product on the stove top after the surface is cool. Attach the Drill Pads to any household drill (you can even use a kitchen scrub pad), spread the product around with the pad and then slowly activate the drill. The faster the drill rotates, the more the product will fly around, so start slow.
It is as easy as that if you want to know how to clean a glass stove top.
Here is a great video of the product and these amazing drill pads and brushes in action
The secret is in the product. It has a jewelers grade abrasive that is gritty enough to break down minerals and burn marks but not so gritty as to even scratch glass. It also has an oxygen bleach that will cut through stains as well as disinfect.
I you want to clean your glass stove top, pot and pans, sinks, tub, showers, or any just about anything else you can think of, visit Bring It On Cleaner and check out these new drill brushes.